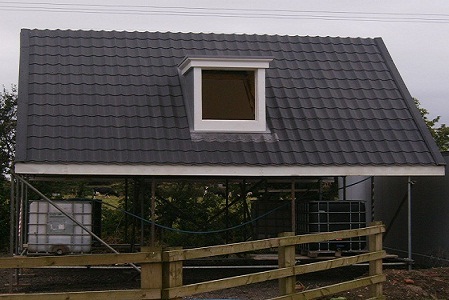 Uni-tect |
Developed by the M.D of McDonnell Price Roofing Ltd, Uni-tect is a new modern innovative way of construction comprising of speed and durability with the imitation of a natural product.
Uni-tect is fabricated with steel rafters, with a steel outer skin made to imitate the appearance of the commonly used concrete tile, enabling the product to blend into it surroundings. However the roof structure is developed in such away that the roof space reaches building regulations to become livable accommodation, thus in turn upgrading the value of the house, due to the extra room to the property.
Due to the furoses and fiercely competitive world of the construction industry, Uni-tect will enable the main contractor to archive four complete roofs in one day, compared to an average two roofs a week.
In years to come Uniteck will enable the client to have a maintenance free roof that will not be compromised by the weather and age, due to its steel fabrication.